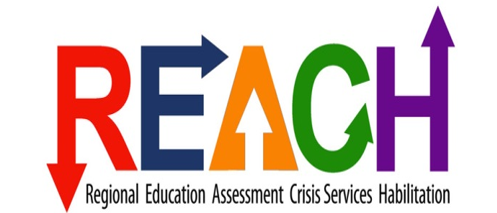 REACH is the area's regional  crisis service that supports adults with intellectual,developmental, and mental health disabilities or who otherwise exhibit challenging behaviors that are negatively affecting  their quality of life.  
For Developmental Services area 1: (Region Ten CSB, Allehany-Highlands CSB, Harrisonburg-Rockingham CSB, Horizons Behavioral Health, Rockbridge Area CSB and Valley CSB)
24/7 Toll Free  Crisis Number: (855) 917-8278
Non-Crisis Referral Line: (434) 962-9220
Easter Seals -UPC is the regional provider of these  crisis services.
REACH emphasizes the prevention of crises before they occur.  This is done through early identification  of individuals, development of crisis response plans, training and technical assistance. Individuals age 18 and over  with a developmental disability including intellectual disability and a mental health  or behavioral need are eligible for this service. Referrals can be made by individuals and families,  case managers, and other natural supports in the persons's life. 
Examples of individuals who might be referred to REACH include:
     — a person at risk of losing their home or job due to behavioral concerns;
     —a person with a history of complex medical, behavioral and/or trauma related issues;
     — a person with significant deterioration in functioning over the past 24 months;
    —a person who has been hospitalized or admitted to a psychiatric training center;
    —a person who has exhibited  any behavior that has resulted in contact with law enforcement or incarceration.
REACH Mobil Support
REACH provides mobile support services to individuals in order to maintain stability in their current placement/residential situation.  Services can be provided on a planned or emergency basis.
Consultation
The clinical team will provide 24/7 consultation as well as ongoing preventative, cross systems planning for eligible adults.  Once the immediate crisis is resolved, the REACH clinician will continue to work with the individual and his/her system of supports and services in order to problem solve, reduce the frequency of emergency interventions, and assist with ongoing stability.
Crisis Therapeutic Home
The REACH CTH is a 6 bed facility in Charlottesville.  The REACH CTH is designed to provide short term treatment  to stabilize the individual and assess their needs.
 Need more information?
For more information, please contact Leela Lipscombe, Regional Crisis Contracts and Special Projects Director at leela.lipscombe@regionten.org or call her at  434-970-2148.