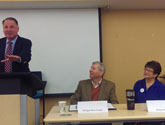 Informative session with Legislators at Coffee and Chat
October 24, 2016
|
0 Comments
Pictured from left: Senator Creigh Deeds, Delegate Steve Landes, Arc of the Piedmont Board Chair Barbara Barrett
The Arc of the Piedmont, Virginia Institute of Autism, Charlottesville Regional Autism Action Group, and Region Ten Community Services Board hosted the area's second annual Coffee and Chat at the Region Ten Conference Center on Saturday, October 22.  This gathering was a forum for the public and area representatives to the Virginia General Assembly  to discuss and get feedback  to questions regarding funding for services that affects individuals with developmental disabilities.  State Senator Creigh Deeds and Delegate Steve Landes were present to respond to questions.   Region Ten Executive Director Robert Johnson opened the forum and greeted guest, followed by remarks from Barbara Barrett, board chair of the Arc of the Piedmont.  Mrs. Barrett served as moderator for the event.
Senator Deeds commented that we need a system that responds to people's needs, but with an anticipated 1.5 billion dollar shortfall, we will see some retrenchment. He noted that housing is critically important as are crisis intervention services for individuals with developmental disabilities. Delegate Landes agreed that funding continues to be a challenge in light of the 1.5 billion shortfall, and funding priorities must be communicated to the House Appropriation Committee members.
Senator Deeds and Delegate Landes responded to observations from the audience concerning systemic protections for people with disabilities from abuse/neglect. It was noted that workers fired from one provider for human rights violations could be rehired by a different provider.   It was suggested that the Joint Legislative Audit Review Committee might examine this protections gap as it updates studies.  Senator Deeds  suggested that  barrier crimes protections are insufficient in these instances, suggesting  more coordination among data bases is needed.
The issue of Cost of Living Adjustments in rates to providers was discussed.  Providers in the audience noted that such a move would help prevent the system of care from falling into decline, if legislators were able to guarantee COLAs.  Both legislators  agreed that given the unpredictable nature of the budget from year to year, it would not be likely that the General Assembly could guarantee regular rate adjustments for services.
Dealing with crisis situations was a topic of discussion, specifically  use of restraints.  Delegate Landes affirmed the desire to limit restraint of individuals with developmental disabilities who are in crisis.   Senator Deeds affirmed his support to prohibit seclusion and restraint, favoring a model of support used in the San Antonio school system where 100 percent of law enforcement officers are trained in Crisis Intervention Team (CIT) training, an innovative first-responder model of police-based crisis intervention with community, health care, and advocacy partnerships. The CIT Model was first developed in Memphis and has spread throughout the country. It is known as the "Memphis Model." CIT provides law enforcement-based crisis intervention training for assisting those individuals with a mental disabilities, and improves the safety of patrol officers, consumers, family members, and citizens within the community.
Also discussed at the forum was the request to revisit funding for services to individuals with autism. Both Senator Deeds and Delegate Landes suggested that advocates should "be the squeaky wheel" when it comes to making the case for attention to services for this population. Additionally, there was universal agreement to follow up on results from previous studies from the Joint Commission on Health Care concerning service needs for individuals with developmental disabilities.
Delegate Landes noted the importance of public/private partnerships to promote opportunities and innovative solutions.  He recalled the ongoing success of Smart Beginnings, a 10 year old  early childhood foundation that began as a public/private partnership. Audience members echoed examples of successes of private/public partnerships.
The topic of Medicaid funding was discussed in the context of long term care.   Senator Deeds noted, that we have "failed as a people as to how to provide for long term care."   Long term care funding  also supports the  needs of individuals with developmental disabilities.