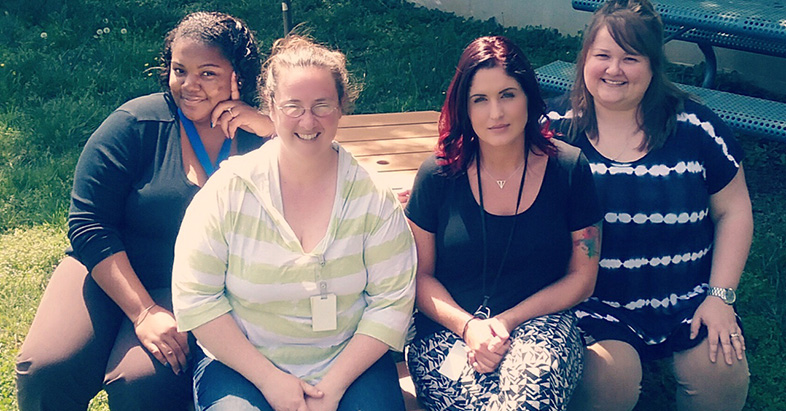 Meet Region Ten's Recovery Support Team
Recovery Support staff pictured from left:  Deidre Creasy, Leslie Fitzgerald, Catherine Connell, Ann Mason Rumble
 The Recovery Support team at Region Ten was created to benefit individuals and their families who are dealing with a substance use disorder and /or a co-occurring mental health disorder.
This program nurtures self-direction, empowerment and choice. Recovery is often a difficult journey that the Recovery Support staff aim to make easier by providing peers to offer emotional, informational, instrumental and affiliational support.
Recovery Support Service is led by Program Manager, Deidre Creasy however the success of this program wouldn't be possible without the expertise and dedication of Leslie Fitzgerald, Ann Mason Rumble and Catherine Connell.
Recovery specialist Leslie Fitzgerald, with the longest tenure, has been working in the program for more than four years and she is passionate about helping others in their recovery. Ann Mason Rumble, partners with the Albemarle-Charlottesville Regional Jail, on a daily basis to facilitate The Matrix Model for Criminal Justice Settings while also providing outstanding peer support. Catherine Connell, uses her experiences to assist and encourage consumers to establish the life they aspire to. The RSS team's personal experience surrounding recovery, generates a receptive and compassionate approach, while supporting others through their recovery voyage.
A special congratulations to Ann Mason Rumble and Catherine Connell who recently completed their Certified Peer Support Recovery Specialist training and certification. These CPRS' worked diligently to improve their recovery service knowledge.