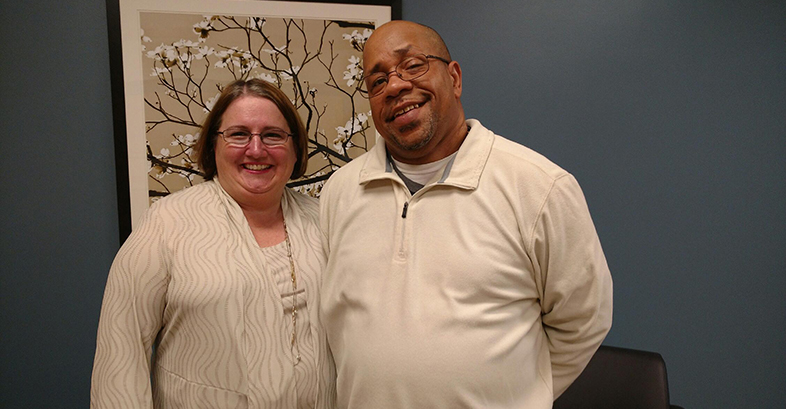 Parent Partners provide important support to Child and Family Services
March 22, 2017
|
0 Comments
Pictured from left: Parent Partners Dawn Hudgins and Tony Davis
The Child and Family Center of Region Ten began providing Family Support Partner Services in 2014 with the use of federal grant funds awarded to the state.  Since that time, Region Ten's Parent Partners, Dawn Hudgins and Tony Davis, have been actively serving families who receive intensive community based services  in order to avoid having their child or adolescent placed out of the home or to assist a child in returning successfully from residential treatment.
These Parent Partners have lived expertise raising a child with challenges and are familiar with the feelings of parents dealing with a child experiencing significant emotional and/or behavioral needs. Because of their personal experience and ongoing work with others, these Parent Partners know what resources are available within the local community and can assist families in navigating  behavioral health, juvenile justice, child welfare, social services, and school systems. 
Primarily, and most importantly, Parent Partners develop a connection and relationship with the parent and family to support them in service planning and decision making regarding treatment.  The Parent Partner plays a key role ensuring the parent or caregiver's expertise regarding their family.  Along with treatment professionals, Parent Partners ensure  that needs are addressed and considered during team meetings.  During these meetings Parent Partners mostly listen, in order to be available to provide support in a crisis, to assist with problem solving and to help caregivers feel understood and less isolated. 
The Child and Family Center is grateful to have this additional resource for families and excited to be able to continue offering the service following the initial grant award through locally administered Children's Services Act funds and additional grant funds from the state.                  
 Crystal Lantz serves as the Program Director of Child and Family Case Management Services at Region Ten.