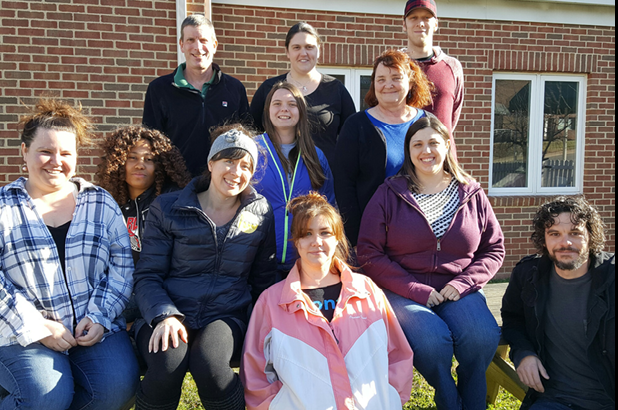 Region Ten creates Community Engagement Services
February 17, 2017
|
0 Comments
Meadowcreek Community Engagement Staff  (pictured from left -front row): Vanessa Behr, Juanita Langhorne, Hannah Wiedeman, Cherith Shelley, Bridgette Arlook,Victor Ritchie.  (Back Row) Bradley Cohen, Kaitlin Knipple, Amy Berry, Pam Fisher, Philip Lucas.
Region Ten Community Services Board continues to create opportunities for consumers to engage with the Charlottesville/Albemarle area.  Community Engagement and Community Coaching are relatively new services being offered through the Meadowcreek Center.
The purpose of these services is to expose individuals with developmental disabilities to new experiences for learning and relationship development.  
Although traditional center based services offer some exposure to community participation, the new services of Community Engagement (provided in a 1:2 and 1:3 ratio) and Community Coaching (provided in a 1:1 ratio) are more intentional in developing community relationships while promoting opportunities for giving back to the community through volunteerism.  Goals of developing important relationships with non-disabled individuals and developing individualized interests while pursuing a person centered activity schedule are important features of this service model. 
Community Engagement allows staff to work with consumers to develop a specific schedule of activities that is individualized to that consumer.   While previous models that are similar to community engagement have been attempted, an important element of this model is the individualized planning that takes place prior to pursuing an activity. In previous models, the activity itself was the goal.  This service model considers the relationships and engagement with community members as the primary focus, with the activity itself secondary to this purpose. 
Meadowcreek Center applied for a grant to fund the initial two years of this service which funds the service through FY 2018.  The aim is to utilize Medicaid Waiver funds to continue to fund this service at the conclusion of the grant. 
Individuals interested in learning more about this service should consult with their ID/DD case manager for information.