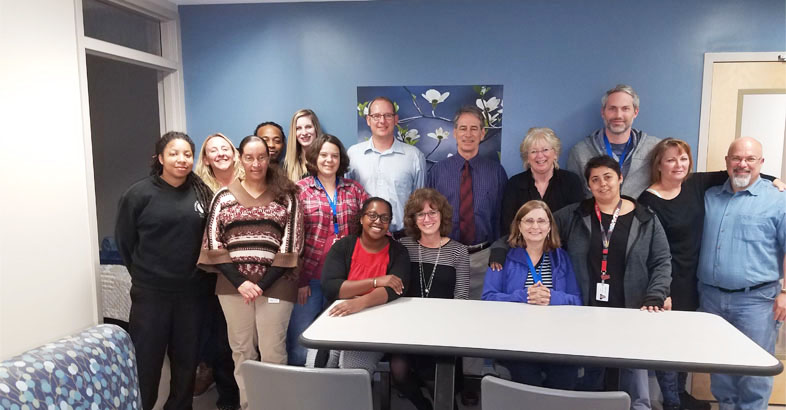 Region Ten expands Mental Health Crisis Services
November 30, 2016
|
0 Comments
Pictured: Region Ten Wellness Recovery staff seated left to right:  Natalie Baker, Jill Farrell, Debbie Smith.   Standing left to right:  Brittany Buckner, Lisa Lotts-Sanner, Monica Thomas, Travis Walker, Emily Eckenberger, Emma Thomas, Tim Campbell, Chris Jackson, Mary Schlimm, Farrah Brody, Ken Horne, Claire Hutchinson, Will Gallik.
The Wellness Recovery Center (WRC), Region Ten's regional crisis stabilization program located at 504 Old Lynchburg Road, has expanded to include short term support for individuals under temporary detention orders (TDO's) as a result of mental health crises.  The TDO is a legal document that allows police or other law. enforcement personnel to transport an individual to a psychiatric hospital or other authorized crisis stabilization program for treatment.
  The newly renovated conjoined unit offers four individual bedrooms with twenty-four hour staff and security onsite.  The expansion adds temporary detention order services that are safe and provided in a lesser restrictive setting than most hospital inpatient units are able to offer.  In addition, having this resource allows more individuals in need of this level of care to remain in their own community, and often with staff with whom they are familiar.
Though some individuals may not be able to participate in the regular activities of the crisis stabilization unit initially, the nature of the facility allows for the regular treatment process to occur when individuals are ready and able.   Until that time, low stimuli, good food, plenty of rest, and access to nursing, psychiatric, and clinical staff are all available to assist individuals as they move to the next step in their recovery.
Region Ten has received funds form the Department of Behavioral Health and Developmental Disabilities (DBHDS) to help move this expansion forward.  
Region Ten gratefully acknowledges the many staff that helped in the planning and construction of this addition. Region Ten also  recognizes the Wellness Recovery Center staff for their ongoing commitment to excellence, which includes  providing a welcoming environment to all individuals who enter the program.