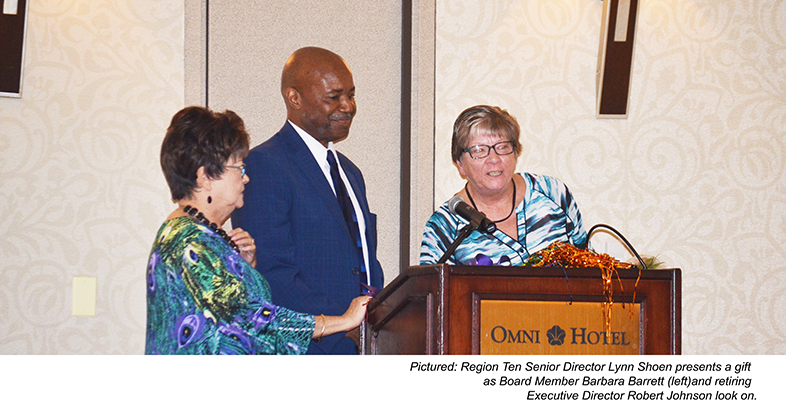 Region Ten Honors Executive Director Robert Johnson as he retires
September 29, 2017
|
0 Comments
Robert Johnson was greeted by colleagues and well-wishers at the Omni Hotel on Thursday evening for a celebration of his years of service as Executive Director of Region Ten.  Mr. Johnson is retiring after 10 years of service.
Speakers at the event were Patricia Hughes, Chair, Region Ten Community Services Board, Dr. Jack Barber, Interim Commissioner for the Virginia Department of Behavioral Health and Developmental Services, Brian Duncan, Executive Director of Rappahannock-Rapidan Community Services Board, and the Region Ten Leadership Team. Presiding as host of the celebration was Region Ten Board member Barbara Barrett, who presented Mr. Johnson with a retirement gift on behalf of the Board.  Pianist Art Wheeler performed  courtesy of  a donation from Ms. Marjie Giuliano. Many members of the community and Region Ten staff were present to pay tribute to Mr. Johnson.
Robert Johnson joined Region Ten in 2007 as the Executive Director.  Mr. Johnson has been credited with leading Region Ten in times of great change in the behavioral health services system.  He has been acknowledged for contributions to the public policy efforts of the Virginia Association of Community Services Boards.  Staff and colleagues extended words of praise and thanks for his years of service, noting his efforts to prepare the community services board system of care for greater scrutiny and reduced levels of financial support which has led to greater emphasis on community partnerships.
In this vein, Mr. Johnson was instrumental in the development of the Mental Health and Wellness Coalition, a partnership of community mental health providers. 
Region Ten has been at the leading edge of innovative and creative solutions to community needs. Among Mr. Johnson's many accomplishments is the expansion of the Mohr treatment facility to include a Detox center which is anticipated to open early 2018.  Mr. Johnson has also worked to  expand housing access, while securing grants for new services in the community to help with funding gaps. Also under his leadership, Region Ten opened crisis stabilization units for adults and children, helping to meet a critical service need.
In order to create a conversation about important community behavioral health issues, Mr. Johnson spearheaded Region Ten's recent community symposium, which brought state and local representatives together with the public for a dialogue in preparation for a community plan.  He is credited with the revitalization of Region Ten's Preston Avenue location, with the development of the Peterson Health Center, a merger of primary care and behavioral health care.  Also under his watch, Region Ten upgraded clinic facilities in Green and Nelson counties. 
Mr. Johnson has received much praise as the driving force in the development of the Women's Treatment Center, a facility to be opened in 2018 that will provide residential substance use disorder services to women.
Marcia Becker, PhD has been appointed to to fill the executive director role in the interim until a permanent replacement is named.