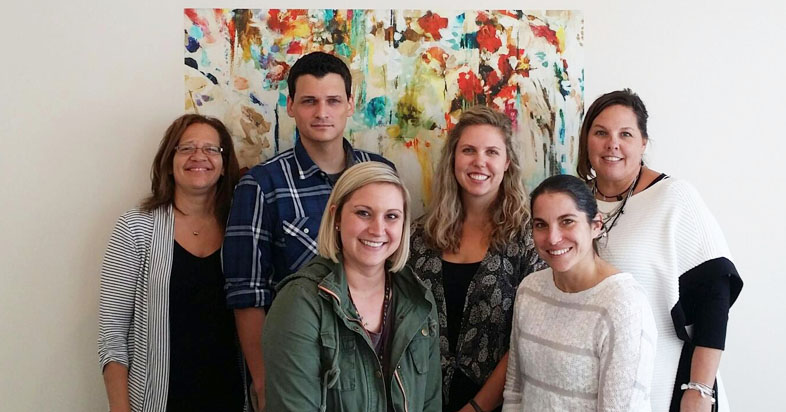 Region Ten offers Crisis Stabilization to Youth
November 3, 2016
|
0 Comments
Pictured from left Region Ten Child and Family Services Crisis Supports Staff:  Alison Schlatter, David Yost, Jordan Brooks, Shelley Shadron, Christine Bowers, and Lori Wood
Region Ten Child and Family Center is now providing a non-residential crisis assessment and stabilization service for youth.   Existing mobile crisis services continue to be in place for this population.  The addition of non-residential crisis services adds to the  local crisis continuum for youth with the initiation of this important service.
 Crisis stabilization is an office-based, intensive 15-day outpatient program that serves youth up to age 17 who are experiencing an acute mental health crisis and who are at risk of requiring restrictive interventions such as psychiatric hospitalization. The program operates during the school day and weekend hours, working closely with schools to assure that youth continue their academics while in this supportive and more restrictive environment.  This service uses crisis assessment, skill-building interventions, and individual, group, and family counseling to help reduce the severity of a child's symptoms so that their mental health needs can be met safely and effectively in the community. Daily transportation, lunch and treatment supplies are provided.   It is designed to support children to stay in their homes throughout a crisis, avoiding hospital and residential placements whenever possible.  Region Ten's crisis clinicians work actively with families, schools, mental health providers, and other supportive resources to promote continued stability and success for the children and families served.
Region Ten Emergency Services department continues to be available, 24/7, to screen and assess children and adolescents who are in need of hospitalization.   Parents and school staff who are concerned about a youth may call Region Ten's Emergency services at  434-972-1800 at any time. An Emergency services clinician will refer to the crisis center if they determine that the child is safe without hospitalization. Region Ten staff that are serving a youth in crisis may call 434-270-0455 and speak with a Child and Family Crisis Center staff.  Assessment related to aggression/volatility, suicidal and homicidal ideation, ability to maintain safety overnight in the home as well as history of violence are  areas that are reviewed in consideration for the appropriateness of this service.
Child crisis staff are able to assist in making a plan of care, evaluate the current crisis need, triage to the appropriate level of care, enroll in a crisis service when indicated and provide valuable consultation about available options. Referrals are welcomed as the staff continue to look forward to working with the community in providing this service.