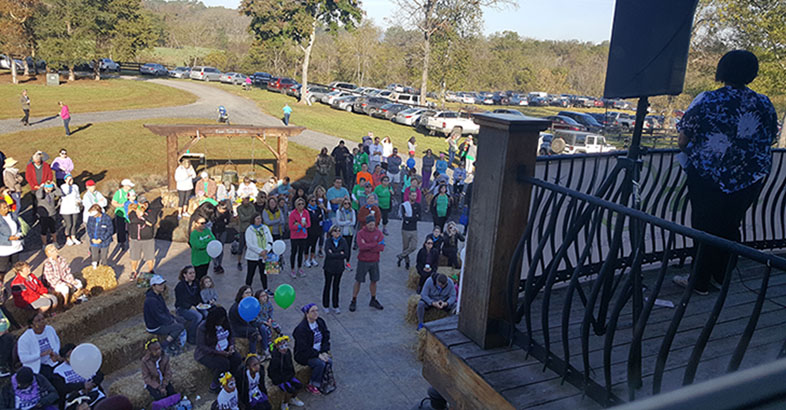 Region Ten participates in SPARC of Hope Walk 2017
October 30, 2017
|
0 Comments
Pictured: SPARC Walk featured speaker Lauren Hope addresses 2017 SPARC Walk participants.
Saturday October 21 was a perfect fall day for this region's Suicide Prevention and Awareness Resource Council to hold its annual walk at East End Farm in the Green Springs District of Louisa County.
This year's featured speaker was Lauren Hope, a survivor and former Channel 12 news reporter.  Ms. Hope reflected on her experience with depression and ultimately thoughts of suicide before she began the process of recovery.
SPARC walks are annual community events aimed at bringing attention to suicide prevention while spreading the message that effective treatment is available.  Walks were first coordinated with the American Foundation for Suicide Awareness. 
Four years ago, Cailin Collier and Robin Durkin approached Region Ten Community Services Board with the possibility of holding a suicide awareness walk.  Both were looking for ways to help the community and bring awareness to others that there is help and hope.
The area's local SPARC council  sought  to  function independently of American Foundation for Suicide Awareness.   With leadership from Region Ten staff  Lori Wood and Mary Williams, the SPARC committee convened monthly, planning for  awareness walks and events to promote suicide prevention. 
This year the committee added a 5 K Run to the event. There were 40 runners and approximately 400 walkers. To date, this walk has generated over $13,600. Funds will continue to be collected through the end of the year.
Organizer Cailin Collier commented that many of the runners were complimentary of the course mapped out for the 5 K run.   In addition to the enjoyment of the walk, this annual event provides an opportunity to raise funds to provide materials and training to community members, therapists, law enforcement and educators.
The SPARC committee and Region Ten gratefully acknowledge the  Manning family for use of their farm and their "exquisite barn" for Region Ten's "Man Cave" exhibit. Region Ten also acknowledges  Van Fitzgerald from the Zion's Crossroads Volunteer Rescue Squad, Ray Arnett of the Louisa County Sherriff's Office and  SPARC committee members  who helped make this event successful.