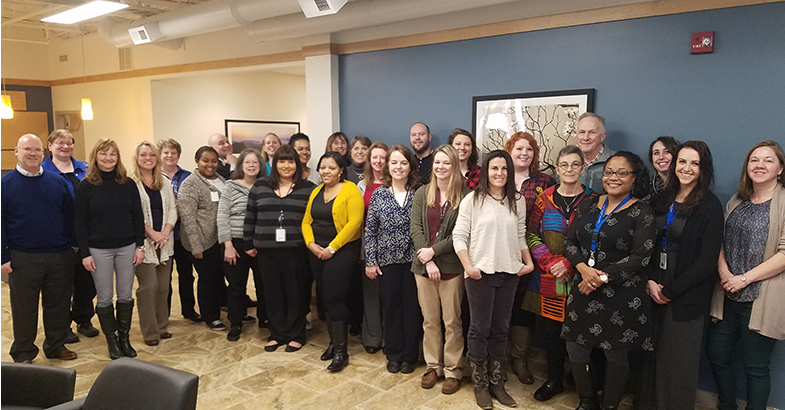 Region Ten 's Charlottesville/Albemarle Case Management Services
March 3, 2017
|
0 Comments
Pictured from left: Charlottesville/Albemarle Case Management Staff:  Ron Phillips, Program Manager, Jeannie Watkins, Program Manager,Debra Carpenter, MH CM, Amy Coleman, MH CM, Beth Elliott, MH CM, Lakeshia Washington, MH CM, Michael Wingate, MH CM, Patricia Sullivan, ID CM, Jennifer Lewis, MH CM/Liaison, Kim Knipple, ID CM, Kelly Randolph, ID CM, Penni Jackson, Administrative Support Staff, Ruth Ewers, ID CM, Crystal Steger-Smith, ID CM, Leanne Evers, ID CM,Savannah Thompson, ID Senior CM, Brad Torrence, ID CM, Diane Bojarski, ID CM, Zara Strickler, ID CM, Tova Roth, MH CM, Lisa Craig, MH CM, Jane Ellis, MH CM, Don Fender, MH CM, Melaina Grubbs, MH CM, Bethany Santora, MH CM, Chelsea Shifflett, MH CM/Liaison, Heather Hines, Director.  Not Pictured: Alexis Dovel, MH CM, William Howerton, Hourly CM, Chad Hutchinson, Hourly CM, Devan Cooper, MH CM, Elke Schwarz. MH CM, Lisa Hearl, Program Manager, Ernestine Davison, Hourly CM.
 The Charlottesville/Albemarle Case Management team, based in the Peterson Building at 800 Preston Avenue in Charlottesville, provides services for more than one thousand adults who have serious mental illnesses and/or intellectual and developmental disabilities.  Utilizing a person centered approach, the case manager acts as a partner, working with individuals in identifying and accessing the resources to help those individuals reach their optimum level of holistic wellness. 
Some of the daily activities of case managers include, but are not limited to, assisting individuals in transitioning from institutional or hospital care to community-based living; linking to housing, employment, and activity resources; assisting with accessing public benefits; providing supportive counseling; coordinating and monitoring primary and psychiatric care services, as needed; monitoring the delivery, effectiveness, and need for continuation of other behavioral health services; and helping maintain appropriate communication between the individuals, their support systems, and all other providers to maximize the potential for achieving the desired outcomes.
Case managers are a fundamental part of Region Ten and consist of a group of caring and dedicated staff who navigate the choppy waters of federal and state regulations and requirements that are often challenging, frequently changing and, at times, unclear.  Each of them possess not just the necessary education and experience working in human services, but also the humanistic qualities of kindness and compassion that are so valuable, especially when working with others.
One additional and absolutely essential component of this team is their sense of fun and good humor.  From replicating the Jeopardy game to emphasize and help retain vital information necessary for the job to improvising rap and comedy skits to win the Case Management Idol contest at their annual picnic, these staff know that one of laughter's many, many benefits is its ability to help re-energize and reinvigorate.   The team consists of thirty case managers, three program managers, one director, and one support staff, and all of them are valued staff members of Region Ten.