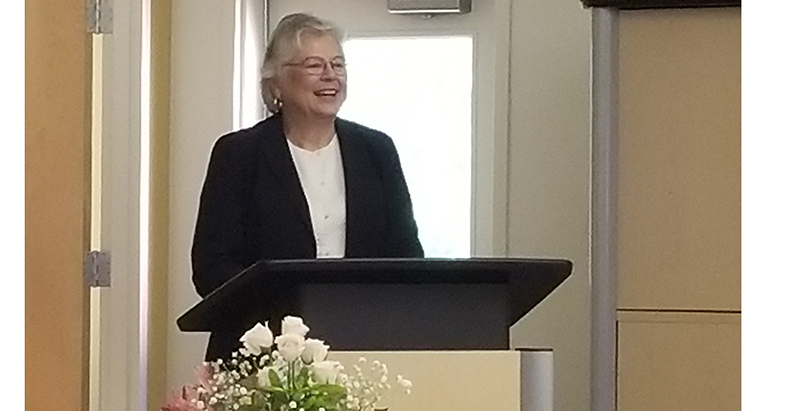 Region Ten says farewell to Jane Lewis
May 19, 2017
|
0 Comments
Region Ten staff  gathered at the Region Ten Conference Center to honor Jane Lewis, PhD, Senior Director of Quality Improvement and Standards, as she prepares to retire from Region Ten at the end of May.
Participating in the celebration were many Region Ten staff who addressed the crowd from the podium, many of whom commented on her dedication, professionalism and grace that she has exhibited over the years.  
Also present for the festivities were family members including her daughter and grandson as well as husband Dr. Don Lewis, who also honored her with heartfelt remarks and a bouquet of roses.
Dr. Lewis was hired in January of 1999 as the Training Specialist for Region Ten.  A year later, she assumed the role of Director of HR and Training, a position she held until November of 2007 when she became the Senior Director of Quality Improvement and Standards at Region Ten.
In written remarks, Executive Director Robert Johnson commented,  "I'll always remember Jane's deliberative style of conversation when discussing important matters. Calm, linear and with an excellent grasp, not only on the facts but the human nuances that are just as important in decision making. Jane always guided the conversation towards the outcomes that were best for the agency, staff and community at large."
Mr. Johnson continued, "This style was also used in personnel matters, though here she shared all sides of the story without prejudging any particular argument. Much as a good investigator must do, she gave me the information without judgement and trusted that I would be able to make the best decision. I will miss her understated wisdom, intelligence and extensive range of skill sets and consider myself fortunate to have had her on my team. Most fortunate indeed!"
Many similar acclaims of praise and gratitude were expressed by well wishers. 
Announcements are pending regarding a replacement as the Senior Director of Quality Improvement and Standards.
 Region Ten wishes Jane all the best in her retirement.