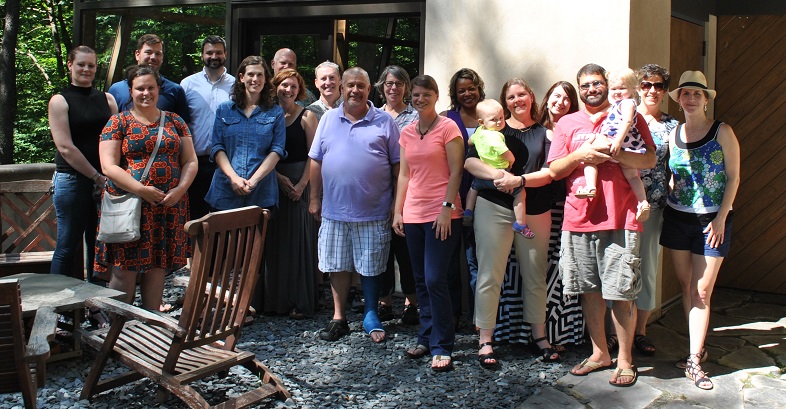 Region Ten's Emergency Services continues to offer a critical safety net
June 29, 2017
|
0 Comments
Emergency Services staff pictured from left: Pam Coburn, Amber Britt, Curt Gleeson, Jamie Wyatt, Joanna Jennings, Emily Schorpp, Tom vonHemmert, Steve Hendrix, John Stone, Terri Higgins, Jalieen Grogan, Dominique McLaughlin, Em Parente, Katie Baird, David Tekippe, Allison O'Grady, Rebecca Landsberg.  Not pictured: Vester Appiah, Buzz Barnett, Angie Spivey-Byers, Jill Farrell, Mary Feamster, Andrew Frye, Andriana Hench, Stosh Kalinsky, Debbie Lonnquest, Lisa Lotts-Sanner, LeRoger Parrish, Kelly Rogers, Laura Ruth, Bethanne Smith, Setera Stevens, Maren Ward, and Molly Yates.
 While beginning with the legal mandate to conduct crisis evaluations to determine the least restrictive treatment environment, Region Ten Emergency Services is a large, dynamic team that is at the ready 24 hours a day, 365 days a year to provide support, consultation, and intervention to any individual in crisis, family members, first responders, physicians, or any other community members. 
Services include intervention and consultation by phone, one-time or short-term crisis intervention, and admission screenings for crisis stabilization units and psychiatric hospitalizations. Every member of the team believes it is a privilege to be present during unfortunate and sometimes life-changing events. Regardless of the situation, Emergency Services staff remain client centered and recovery focused, providing in the moment intervention to plant seeds for growth and referring clients to the appropriate services for safety and stabilization.
 This effort requires collaboration with other teams within Region Ten and agencies and organizations across our community. Great effort has been put into building partnerships with local law enforcement agencies and magistrates, the University of Virginia Medical Center teams, and other private and state hospitals to improve client experiences and outcomes. This includes growth of the Jefferson Area Crisis Intervention Team through Tom VonHemmert's tireless efforts, and the continued development of the Crisis Assessment Center at the University of Virginia Emergency Department.
 The team has grown in recent years, and now includes thirteen full-time and seventeen hourly Certified Prescreeners, one full-time and one part-time Certified Peer Recovery Specialists, and one full-time amazing support staff who is in training to become a clinician. Eleven of the prescreeners have more than ten years of Emergency Services experience each, with many others having been on the team for five years or more. Together these thirty-three dedicated individuals work more than seven hundred hours each week.