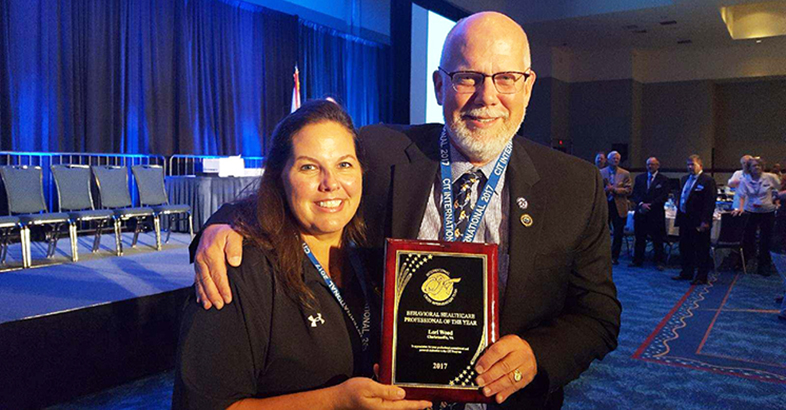 Region Ten's Lori Wood is honored as 2017 CIT International's Behavioral Healthcare Professional of the Year
August 23, 2017
|
0 Comments
Law enforcement officers  who are specifically trained in behavioral health serve as a member of Crisis Intervention Teams, or CIT.  These officers are better equipped to intervene in emergency situations involving individuals with behavioral health needs. The success of CIT depends heavily on quality training by behavioral healthcare providers.
To this end, Region Ten is pleased to announce that Lori Wood, Director of Prevention, Outpatient, and Youth Crisis Services  has been awarded the 2017 CIT International Behavioral Healthcare Professional of the Year.
This  annual award comes from CIT International.  The recipient is selected by the CIT Board from all the nominations submitted by all CIT programs worldwide.
CIT International is a non-profit membership organization whose primary purpose is to facilitate understanding, development and implementation of Crisis Intervention Team programs throughout the U.S. and worldwide.  It aims to promote and support collaborative efforts that create and sustain more effective interactions among law enforcement, mental health care providers, individuals with mental illness, their families and communities and to reduce the stigma of mental illness. 
Lori Wood has demonstrated a commitment to the Thomas Jefferson Area CIT program as a pivotal leader and Behavioral Healthcare Practitioner from the beginning in developing the quality of the area's CIT program over the last 12 years.  As a mental health expert, Ms. Wood  has trained on numerous mental health topics including clinical states, suicide prevention and crisis de-escalation.  Her audiences are primarily made up of  Law Enforcement Officers, Emergency Dispatchers, Magistrates, Security Officers, Probation Officers, and individuals seeking to become CIT Trainers.  Additionally, she has worked to support the development  of over 15 new CIT programs throughout Virginia.  
 Thomas von Hemert, local CIT Coordinator with the Thomas Jefferson Area Crisis Intervention Team nominated Ms. Wood, and describes her as  "highly skilled as a trainer and manages scenario work with law enforcement officers with unprecedented competence helping everyone to grow their confidence and ability to manage complex issues in mental health. She is able to move in and out of situations skillfully whether they involve children, adults or families. She handles mental health crises with expert knowledge and continues to research and learn in her field."
CIT International works to accomplish its purpose by holding the Annual CIT International Conference with local CIT partners to provide education and networking to help develop, maintain and sustain CIT programs; raising public and stakeholder awareness through education and outreach; establishing and disseminating commended standards for developing, implementing and sustaining CIT programs; providing technical assistance to communities interested in developing CIT programs; and supporting research and evaluation of CIT programs to demonstrate their value for communities.
Mr. von Hemert adds, "The criminal justice and mental health systems of crisis management are on the slow-steady transition from a security-focused paradigm to a recovery-focused paradigm. There is a lot of inherent tension in this transition, but Lori has been the tip of the spear in our region from the beginning. To achieve her accomplishments she has had to build bridges by validating the motivations and strengths of each element in the system, speaking the language of each team, and translating between them."
Region Ten congratulates Lori Wood on this outstanding accomplishment.