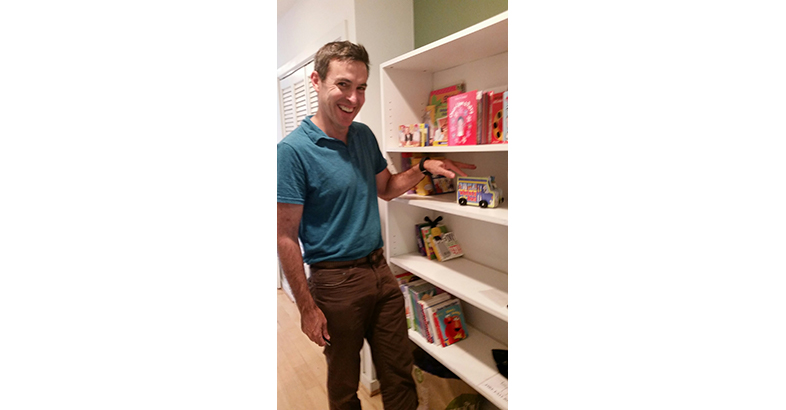 The Babies Team Hires Occupational Therapist
July 10, 2017
|
0 Comments
David  Johnson (pictured) has been hired by  Infant & Toddler Connection of the Blue Ridge to provide Occupational Therapy services.
Infant & Toddler Connection of the Blue Ridge has been providing early intervention services to infants and toddlers birth to 3 with developmental delays or disabilities for over 20 years under a number of different names, but always under the auspices of the Region Ten Community Services Board.
The Infant & Toddler Connection of the Blue Ridge provides service coordination to ensure children receive all appropriate supports and services under the Part C of the federal Individual with Disabilities Education Act (IDEA). While we have always contacted with local agencies for speech language pathology, occupational therapy and physical therapy, in December we hired our first occupational therapist,  David (Darv) Johnson.
As an occupational therapist Darv may work with babies with a specific diagnosis such as Down syndrome or autism or those with no clear diagnosis. We know that all babies learn through play and during their family routines for meals, napping, and/or bath time so in early intervention Darv works directly with parents or caregivers to help them modify the home environment or a play activity so that their child can fully participate and learn.
Darv recently attended an intensive Play Project training for children with autism, which uses professionals from different disciplines to engage parents to become a partner in teaching and supporting the development of their children. "The principles, methods and techniques of the PLAY Project emphasize the child's readiness or following the child's lead as a means for improving social impairment, a core deficit of autism spectrum disorder (ASD). Professionals coach parents to build a joyous, engaged relationship with their child with ASD." With our new occupational therapy position we are looking forward to providing more intensive and coordinated services to the youngest children diagnosed with autism!