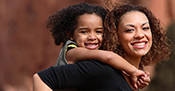 Women's Treatment Center-Reaching the Goal!
December 19, 2016
|
0 Comments
Region Ten is hailed in the community as being an excellent provider and innovator of behavioral health services.  We are proud of the reputation we have, but there is nothing about our programmatic expertise that qualifies us as capital fundraisers for a Women's Treatment Center.  Nevertheless, with the excellent assistance of "The Curtis Group" (Fundraising Strategist), we began the journey thinking "even if we are not able to reach our target, some funds raised is a lot better than nothing at all". With not more than that thought in mind, we set out to begin meeting prospective donors.
One of the first prospective donors we met, turned out to not only help us with a significant financial donation, but quickly joined the team, not only to help point us in the right direction, but joined us as we met with other prospects.  Shelah Scott has been such a shining star in this endeavor and always a Drum Major for the services provided by Region Ten.  With the full financial support of our board members, a host of individual and corporate friends from the community, and major donations from both the Batten Foundation and Perry Foundation and a few more expected donations, we are pleased to say that we have reached the initial target of $1,000,000 that we set several months ago.
We are sure there will be peer organizations across the state that will ask us "what fundraising strategies did you use to sell this idea to your donors". Our answer will be that we didn't sell it, all we did was "tell our story".  Our story is a story of new beginnings, to restore hope to the many women who will come to our doors, and more importantly to give their children, the next generation, a life full of dreams and possibilities.
As pleased as we are to reach the initial tier of our goal, additional funds are still needed to pay the full cost of the building to include site work, required landscaping and furnishings.  Our fundraising efforts continue, but it seems fitting that we pause now to celebrate what has already been done!
Caruso Brown serves as Project Consultant for Region Ten Community Services Board.