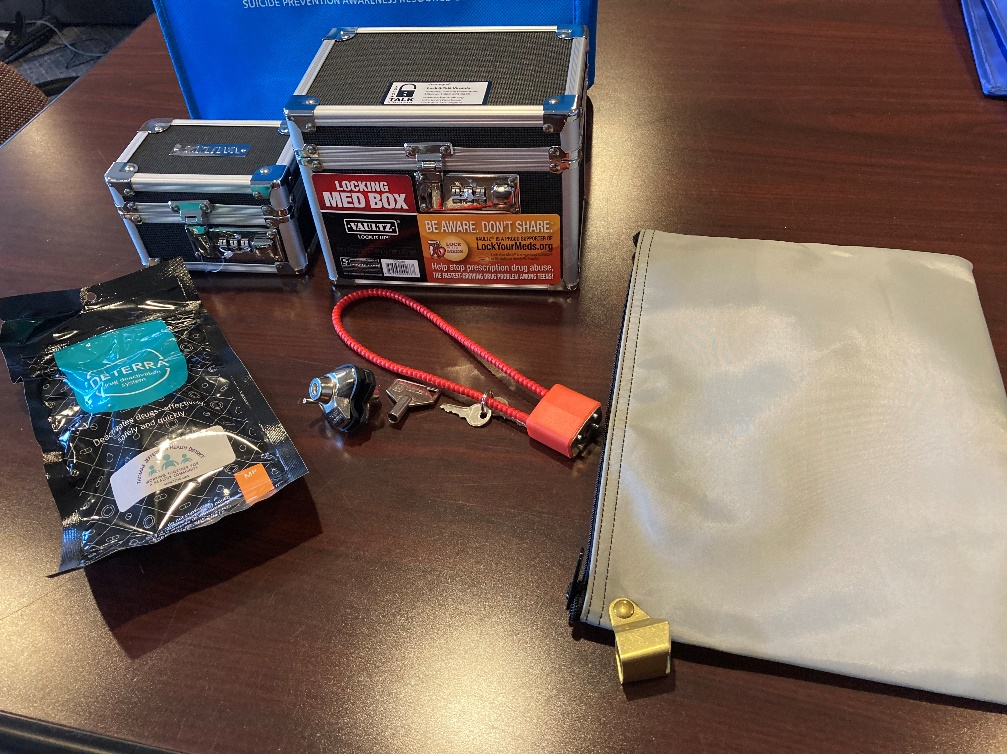 Back to Blog
January 26, 2021
Do Your Part For Safety: Free Safe Storage Devices Available Through Region Ten
If we learned anything from 2020, it's that mental health plays an important role in what it means to be healthy, happy, and safe.  Read more about how you can prevent suicide and drug misuse through this difficult time, and request your FREE safety devices by completing this simple form.
Why is it important to take steps to improve home safety?
The stressors of the pandemic have been hard on everyone's mental health, and unfortunately, both suicide and overdose rates have been rising. According to the Virginia Department of Health, 2020 may have been "the worst year on record by far for fatal overdoses in Virginia." You can help play a part in preventing suicide and drug misuse by creating a plan to keep your home and community safe.
How do I create a safety plan to prevent suicide and drug misuse?
Creating a plan to keep your home safe is as simple as 1-2-3.  You can:
Lock Meds: Use lock bags and boxes to safely keep prescription medications such as painkillers, anxiety pills, or sedatives out of reach from those who may misuse them.
Lock Guns: Use lock safes and trigger locks to keep firearms safely stored away.
Talk Safety: Have a conversation with your family and friends about mental health, safety, and substance misuse.
Science shows these methods work. Creating a barrier to lethal means of suicide, such as a firearm or prescription medication can help save lives. Suicide attempts usually happen within a short period of crisis, and locking these items in your home can allow time for reflection and to get help.
Region Ten is part of the Lock and Talk Initiative to prevent suicide in Virginia. For more information about the Lock and Talk campaign, see www.lockandtalk.org.
How do I request free safety supplies to help prevent suicide and drug misuse?
Region Ten and the Community Mental Health Coalition are now offering free safety devices and materials which include:
Lock boxes (to store prescription medications and small firearms)
Medication lock bags (to store and discretely travel with medications)
Trigger locks (to add an extra security measure to firearms) and
Drug deactivation packets (to safely dispose of unwanted prescription medication).
To request your free safety devices, please complete this simple form: Safety Devices Request Form.
Pickup is available at the Region Ten offices in Nelson, Fluvanna, Greene, and Louisa, along with continued pickup and delivery services in Charlottesville and Albemarle County.
How do I recognize signs of suicide risk?
Recognizing signs and symptoms of suicide risk is an important way to keep your family and community safe. Individuals who may be at immediate risk of suicide might:
Talk about wanting to die or having no reason to live
Try to obtain a gun, lethal doses of medications, or look for other ways to kill oneself
Talk about feeling hopeless or helpless
Talk about being a burden to others
Increase drug or alcohol use
Withdraw from family or friends
Sleep too much or too little
Give away prized possessions
Act anxious or agitated or behave recklessly
How do I recognize signs of substance misuse?
There can be many signs of substance misuse, depending on which substances someone might be using or the extent of the problem. Some common general signs include:
Changes in weight or eating habits
Changes in personality or energy levels
Irregular sleeping patterns
Changes in activities or hobbies
Shifts in social circles
Poor performance in work or school
Secretive behavior
Isolating oneself
Financial problems
How do I "talk safety," or begin a conversation with someone I am concerned about?
If you are concerned about someone at risk of suicide or substance misuse, it is best to talk with the person directly. Show care, speak honestly and directly, listen without judgement, give reassurance, and offer help.
If you are worried that someone is thinking about suicide, ask directly, "Are you thinking about killing yourself?" If the answer is "yes," then listen carefully about how that person is feeling and what they are thinking, and be ready to connect them to help. In an emergency, call 9-1-1. For immediate support and guidance any time day or night, call the National Suicide Prevention Lifeline.
Knowing someone you love may be thinking about suicide, or misusing drugs can be hard on your emotional well-being. Remember to take care of your own mental health, and reach out to a lifeline center or community resources for help if needed.
For more information about how to talk with someone about mental health concerns or substance misuse, go HERE:
Where can I go for help?
Suicide prevention and crisis support is available 24/7 at:
For information about substance use treatment, see: