Blue Ridge Center
Blue Ridge Center (BRC) provides easily accessible services to the community and people served by Region Ten in the heart of Charlottesville, Virginia
Service Overview
Formerly known as "Blue Ridge House" or "Blue Ridge Clubhouse", BLUE RIDGE CENTER (BRC) has reopened with a fresh new look for the program! One thing that has remained is the feeling of belonging and connection for our mental health community. The primary purpose of the program is for individuals to access groups/ services while they are waitlisted for other services.
BRC is open Monday- Friday 9am-4pm and offers a wide variety of groups open to Region Ten consumers and the community. These groups range from job readiness, Dialectical Behavior Therapy (DBT), Acudetox, diagnosis education and more.  The center also provides for those who are considering abstaining from substances or working on their SA recovery. Additionally, housing and community information is available to those who need it. Free Acudetox offered daily! See flyer HERE for more information.
To access Blue Ridge Center, please call 434-972-1825. Services are currently free. BRC strives to make itself available to everyone in the community, regardless of means or income.
Check out our monthly calendar below or join us every morning at 9:30 for Coffee and Convo to get oriented to the day and see what you're interested in. In between groups, hop in on a game of cornhole or ping pong!
IN DECEMBER…..
We will be offering a holiday celebration on Friday 12/22 with small gifts/ gift cards and food ( come to BRC to learn more 😉)
BRC will continue to partner with Common Ground allowing them to use the space and in return, they are offering acupuncture and massage spots for Region Ten consumers. Call 434-972-1825 for more info and to get scheduled. They are also offering Qi Gong every Thursday morning at 10am.
Genoa will be holding a social at BRC on Tuesday Dec. 12th. Come learn more about Genoa and get a flu shot while you're there! Food will be provided.
December 23 Group Descriptions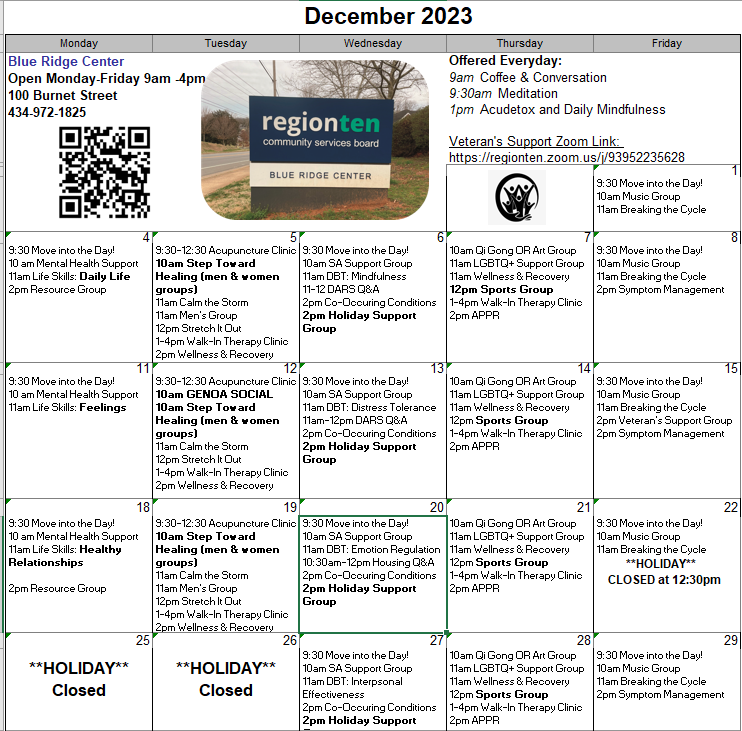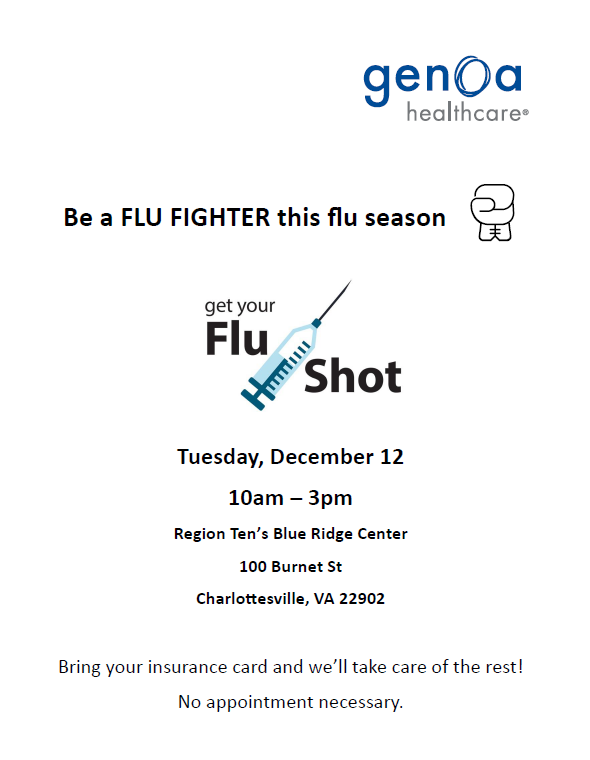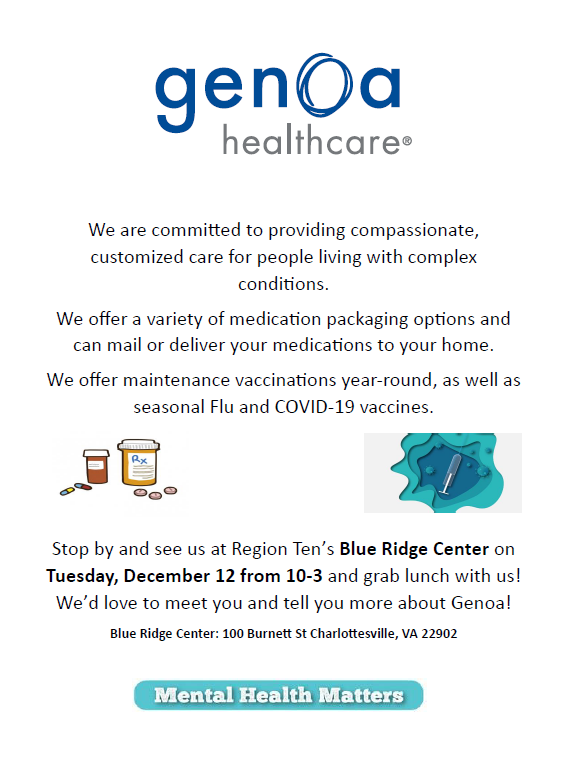 :slides="[{"ID":5444,"id":5444,"title":"Grp Rm 1","filename":"Grp-Rm-1-scaled.jpg","filesize":722968,"url":"https:\/\/regionten.org\/wp-content\/uploads\/2023\/02\/Grp-Rm-1-scaled.jpg","link":"https:\/\/regionten.org\/services\/brc\/grp-rm-1\/","alt":"","author":"34","description":"","caption":"","name":"grp-rm-1","status":"inherit","uploaded_to":2747,"date":"2023-04-27 19:32:23","modified":"2023-04-27 19:32:23","menu_order":0,"mime_type":"image\/jpeg","type":"image","subtype":"jpeg","icon":"https:\/\/regionten.org\/wp-includes\/images\/media\/default.png","width":2560,"height":1920,"sizes":{"thumbnail":"https:\/\/regionten.org\/wp-content\/uploads\/2023\/02\/Grp-Rm-1-180x180.jpg","thumbnail-width":180,"thumbnail-height":180,"medium":"https:\/\/regionten.org\/wp-content\/uploads\/2023\/02\/Grp-Rm-1-scaled.jpg","medium-width":500,"medium-height":375,"medium_large":"https:\/\/regionten.org\/wp-content\/uploads\/2023\/02\/Grp-Rm-1-scaled.jpg","medium_large-width":640,"medium_large-height":480,"large":"https:\/\/regionten.org\/wp-content\/uploads\/2023\/02\/Grp-Rm-1-scaled.jpg","large-width":640,"large-height":480,"1536x1536":"https:\/\/regionten.org\/wp-content\/uploads\/2023\/02\/Grp-Rm-1-1536x1152.jpg","1536x1536-width":1536,"1536x1536-height":1152,"2048x2048":"https:\/\/regionten.org\/wp-content\/uploads\/2023\/02\/Grp-Rm-1-2048x1536.jpg","2048x2048-width":2048,"2048x2048-height":1536,"container-width":"https:\/\/regionten.org\/wp-content\/uploads\/2023\/02\/Grp-Rm-1-1400x1050.jpg","container-width-width":1400,"container-width-height":1050,"mid-size":"https:\/\/regionten.org\/wp-content\/uploads\/2023\/02\/Grp-Rm-1-750x563.jpg","mid-size-width":750,"mid-size-height":563,"team-image":"https:\/\/regionten.org\/wp-content\/uploads\/2023\/02\/Grp-Rm-1-400x400.jpg","team-image-width":400,"team-image-height":400}},{"ID":5454,"id":5454,"title":"Acudetox Rm","filename":"Acudetox-Rm-1-scaled.jpg","filesize":753797,"url":"https:\/\/regionten.org\/wp-content\/uploads\/2023\/02\/Acudetox-Rm-1-scaled.jpg","link":"https:\/\/regionten.org\/services\/brc\/acudetox-rm-2\/","alt":"","author":"34","description":"","caption":"","name":"acudetox-rm-2","status":"inherit","uploaded_to":2747,"date":"2023-04-27 19:37:22","modified":"2023-04-27 19:37:22","menu_order":0,"mime_type":"image\/jpeg","type":"image","subtype":"jpeg","icon":"https:\/\/regionten.org\/wp-includes\/images\/media\/default.png","width":2560,"height":1920,"sizes":{"thumbnail":"https:\/\/regionten.org\/wp-content\/uploads\/2023\/02\/Acudetox-Rm-1-180x180.jpg","thumbnail-width":180,"thumbnail-height":180,"medium":"https:\/\/regionten.org\/wp-content\/uploads\/2023\/02\/Acudetox-Rm-1-scaled.jpg","medium-width":500,"medium-height":375,"medium_large":"https:\/\/regionten.org\/wp-content\/uploads\/2023\/02\/Acudetox-Rm-1-scaled.jpg","medium_large-width":640,"medium_large-height":480,"large":"https:\/\/regionten.org\/wp-content\/uploads\/2023\/02\/Acudetox-Rm-1-scaled.jpg","large-width":640,"large-height":480,"1536x1536":"https:\/\/regionten.org\/wp-content\/uploads\/2023\/02\/Acudetox-Rm-1-1536x1152.jpg","1536x1536-width":1536,"1536x1536-height":1152,"2048x2048":"https:\/\/regionten.org\/wp-content\/uploads\/2023\/02\/Acudetox-Rm-1-2048x1536.jpg","2048x2048-width":2048,"2048x2048-height":1536,"container-width":"https:\/\/regionten.org\/wp-content\/uploads\/2023\/02\/Acudetox-Rm-1-1400x1050.jpg","container-width-width":1400,"container-width-height":1050,"mid-size":"https:\/\/regionten.org\/wp-content\/uploads\/2023\/02\/Acudetox-Rm-1-750x563.jpg","mid-size-width":750,"mid-size-height":563,"team-image":"https:\/\/regionten.org\/wp-content\/uploads\/2023\/02\/Acudetox-Rm-1-400x400.jpg","team-image-width":400,"team-image-height":400}},{"ID":5447,"id":5447,"title":"Grp Rm 4","filename":"Grp-Rm-4-scaled.jpg","filesize":726158,"url":"https:\/\/regionten.org\/wp-content\/uploads\/2023\/02\/Grp-Rm-4-scaled.jpg","link":"https:\/\/regionten.org\/services\/brc\/grp-rm-4\/","alt":"","author":"34","description":"","caption":"","name":"grp-rm-4","status":"inherit","uploaded_to":2747,"date":"2023-04-27 19:32:43","modified":"2023-04-27 19:32:43","menu_order":0,"mime_type":"image\/jpeg","type":"image","subtype":"jpeg","icon":"https:\/\/regionten.org\/wp-includes\/images\/media\/default.png","width":2560,"height":1920,"sizes":{"thumbnail":"https:\/\/regionten.org\/wp-content\/uploads\/2023\/02\/Grp-Rm-4-180x180.jpg","thumbnail-width":180,"thumbnail-height":180,"medium":"https:\/\/regionten.org\/wp-content\/uploads\/2023\/02\/Grp-Rm-4-scaled.jpg","medium-width":500,"medium-height":375,"medium_large":"https:\/\/regionten.org\/wp-content\/uploads\/2023\/02\/Grp-Rm-4-scaled.jpg","medium_large-width":640,"medium_large-height":480,"large":"https:\/\/regionten.org\/wp-content\/uploads\/2023\/02\/Grp-Rm-4-scaled.jpg","large-width":640,"large-height":480,"1536x1536":"https:\/\/regionten.org\/wp-content\/uploads\/2023\/02\/Grp-Rm-4-1536x1152.jpg","1536x1536-width":1536,"1536x1536-height":1152,"2048x2048":"https:\/\/regionten.org\/wp-content\/uploads\/2023\/02\/Grp-Rm-4-2048x1536.jpg","2048x2048-width":2048,"2048x2048-height":1536,"container-width":"https:\/\/regionten.org\/wp-content\/uploads\/2023\/02\/Grp-Rm-4-1400x1050.jpg","container-width-width":1400,"container-width-height":1050,"mid-size":"https:\/\/regionten.org\/wp-content\/uploads\/2023\/02\/Grp-Rm-4-750x563.jpg","mid-size-width":750,"mid-size-height":563,"team-image":"https:\/\/regionten.org\/wp-content\/uploads\/2023\/02\/Grp-Rm-4-400x400.jpg","team-image-width":400,"team-image-height":400}},{"ID":5448,"id":5448,"title":"Grp Rm 4a","filename":"Grp-Rm-4a-scaled.jpg","filesize":476315,"url":"https:\/\/regionten.org\/wp-content\/uploads\/2023\/02\/Grp-Rm-4a-scaled.jpg","link":"https:\/\/regionten.org\/services\/brc\/grp-rm-4a\/","alt":"","author":"34","description":"","caption":"","name":"grp-rm-4a","status":"inherit","uploaded_to":2747,"date":"2023-04-27 19:32:48","modified":"2023-04-27 19:32:48","menu_order":0,"mime_type":"image\/jpeg","type":"image","subtype":"jpeg","icon":"https:\/\/regionten.org\/wp-includes\/images\/media\/default.png","width":2560,"height":1920,"sizes":{"thumbnail":"https:\/\/regionten.org\/wp-content\/uploads\/2023\/02\/Grp-Rm-4a-180x180.jpg","thumbnail-width":180,"thumbnail-height":180,"medium":"https:\/\/regionten.org\/wp-content\/uploads\/2023\/02\/Grp-Rm-4a-scaled.jpg","medium-width":500,"medium-height":375,"medium_large":"https:\/\/regionten.org\/wp-content\/uploads\/2023\/02\/Grp-Rm-4a-scaled.jpg","medium_large-width":640,"medium_large-height":480,"large":"https:\/\/regionten.org\/wp-content\/uploads\/2023\/02\/Grp-Rm-4a-scaled.jpg","large-width":640,"large-height":480,"1536x1536":"https:\/\/regionten.org\/wp-content\/uploads\/2023\/02\/Grp-Rm-4a-1536x1152.jpg","1536x1536-width":1536,"1536x1536-height":1152,"2048x2048":"https:\/\/regionten.org\/wp-content\/uploads\/2023\/02\/Grp-Rm-4a-2048x1536.jpg","2048x2048-width":2048,"2048x2048-height":1536,"container-width":"https:\/\/regionten.org\/wp-content\/uploads\/2023\/02\/Grp-Rm-4a-1400x1050.jpg","container-width-width":1400,"container-width-height":1050,"mid-size":"https:\/\/regionten.org\/wp-content\/uploads\/2023\/02\/Grp-Rm-4a-750x563.jpg","mid-size-width":750,"mid-size-height":563,"team-image":"https:\/\/regionten.org\/wp-content\/uploads\/2023\/02\/Grp-Rm-4a-400x400.jpg","team-image-width":400,"team-image-height":400}},{"ID":5450,"id":5450,"title":"cafe","filename":"cafe-scaled.jpg","filesize":711709,"url":"https:\/\/regionten.org\/wp-content\/uploads\/2023\/02\/cafe-scaled.jpg","link":"https:\/\/regionten.org\/services\/brc\/cafe\/","alt":"","author":"34","description":"","caption":"","name":"cafe","status":"inherit","uploaded_to":2747,"date":"2023-04-27 19:33:02","modified":"2023-04-27 19:33:02","menu_order":0,"mime_type":"image\/jpeg","type":"image","subtype":"jpeg","icon":"https:\/\/regionten.org\/wp-includes\/images\/media\/default.png","width":2560,"height":1920,"sizes":{"thumbnail":"https:\/\/regionten.org\/wp-content\/uploads\/2023\/02\/cafe-180x180.jpg","thumbnail-width":180,"thumbnail-height":180,"medium":"https:\/\/regionten.org\/wp-content\/uploads\/2023\/02\/cafe-scaled.jpg","medium-width":500,"medium-height":375,"medium_large":"https:\/\/regionten.org\/wp-content\/uploads\/2023\/02\/cafe-scaled.jpg","medium_large-width":640,"medium_large-height":480,"large":"https:\/\/regionten.org\/wp-content\/uploads\/2023\/02\/cafe-scaled.jpg","large-width":640,"large-height":480,"1536x1536":"https:\/\/regionten.org\/wp-content\/uploads\/2023\/02\/cafe-1536x1152.jpg","1536x1536-width":1536,"1536x1536-height":1152,"2048x2048":"https:\/\/regionten.org\/wp-content\/uploads\/2023\/02\/cafe-2048x1536.jpg","2048x2048-width":2048,"2048x2048-height":1536,"container-width":"https:\/\/regionten.org\/wp-content\/uploads\/2023\/02\/cafe-1400x1050.jpg","container-width-width":1400,"container-width-height":1050,"mid-size":"https:\/\/regionten.org\/wp-content\/uploads\/2023\/02\/cafe-750x563.jpg","mid-size-width":750,"mid-size-height":563,"team-image":"https:\/\/regionten.org\/wp-content\/uploads\/2023\/02\/cafe-400x400.jpg","team-image-width":400,"team-image-height":400}},{"ID":5451,"id":5451,"title":"Rec sitting area","filename":"Rec-sitting-area-scaled.jpg","filesize":684452,"url":"https:\/\/regionten.org\/wp-content\/uploads\/2023\/02\/Rec-sitting-area-scaled.jpg","link":"https:\/\/regionten.org\/services\/brc\/rec-sitting-area\/","alt":"","author":"34","description":"","caption":"","name":"rec-sitting-area","status":"inherit","uploaded_to":2747,"date":"2023-04-27 19:33:07","modified":"2023-04-27 19:33:07","menu_order":0,"mime_type":"image\/jpeg","type":"image","subtype":"jpeg","icon":"https:\/\/regionten.org\/wp-includes\/images\/media\/default.png","width":2560,"height":1920,"sizes":{"thumbnail":"https:\/\/regionten.org\/wp-content\/uploads\/2023\/02\/Rec-sitting-area-180x180.jpg","thumbnail-width":180,"thumbnail-height":180,"medium":"https:\/\/regionten.org\/wp-content\/uploads\/2023\/02\/Rec-sitting-area-scaled.jpg","medium-width":500,"medium-height":375,"medium_large":"https:\/\/regionten.org\/wp-content\/uploads\/2023\/02\/Rec-sitting-area-scaled.jpg","medium_large-width":640,"medium_large-height":480,"large":"https:\/\/regionten.org\/wp-content\/uploads\/2023\/02\/Rec-sitting-area-scaled.jpg","large-width":640,"large-height":480,"1536x1536":"https:\/\/regionten.org\/wp-content\/uploads\/2023\/02\/Rec-sitting-area-1536x1152.jpg","1536x1536-width":1536,"1536x1536-height":1152,"2048x2048":"https:\/\/regionten.org\/wp-content\/uploads\/2023\/02\/Rec-sitting-area-2048x1536.jpg","2048x2048-width":2048,"2048x2048-height":1536,"container-width":"https:\/\/regionten.org\/wp-content\/uploads\/2023\/02\/Rec-sitting-area-1400x1050.jpg","container-width-width":1400,"container-width-height":1050,"mid-size":"https:\/\/regionten.org\/wp-content\/uploads\/2023\/02\/Rec-sitting-area-750x563.jpg","mid-size-width":750,"mid-size-height":563,"team-image":"https:\/\/regionten.org\/wp-content\/uploads\/2023\/02\/Rec-sitting-area-400x400.jpg","team-image-width":400,"team-image-height":400}},{"ID":5452,"id":5452,"title":"Rec area","filename":"Rec-area-scaled.jpg","filesize":566028,"url":"https:\/\/regionten.org\/wp-content\/uploads\/2023\/02\/Rec-area-scaled.jpg","link":"https:\/\/regionten.org\/services\/brc\/rec-area\/","alt":"","author":"34","description":"","caption":"","name":"rec-area","status":"inherit","uploaded_to":2747,"date":"2023-04-27 19:33:13","modified":"2023-04-27 19:33:13","menu_order":0,"mime_type":"image\/jpeg","type":"image","subtype":"jpeg","icon":"https:\/\/regionten.org\/wp-includes\/images\/media\/default.png","width":2560,"height":1920,"sizes":{"thumbnail":"https:\/\/regionten.org\/wp-content\/uploads\/2023\/02\/Rec-area-180x180.jpg","thumbnail-width":180,"thumbnail-height":180,"medium":"https:\/\/regionten.org\/wp-content\/uploads\/2023\/02\/Rec-area-scaled.jpg","medium-width":500,"medium-height":375,"medium_large":"https:\/\/regionten.org\/wp-content\/uploads\/2023\/02\/Rec-area-scaled.jpg","medium_large-width":640,"medium_large-height":480,"large":"https:\/\/regionten.org\/wp-content\/uploads\/2023\/02\/Rec-area-scaled.jpg","large-width":640,"large-height":480,"1536x1536":"https:\/\/regionten.org\/wp-content\/uploads\/2023\/02\/Rec-area-1536x1152.jpg","1536x1536-width":1536,"1536x1536-height":1152,"2048x2048":"https:\/\/regionten.org\/wp-content\/uploads\/2023\/02\/Rec-area-2048x1536.jpg","2048x2048-width":2048,"2048x2048-height":1536,"container-width":"https:\/\/regionten.org\/wp-content\/uploads\/2023\/02\/Rec-area-1400x1050.jpg","container-width-width":1400,"container-width-height":1050,"mid-size":"https:\/\/regionten.org\/wp-content\/uploads\/2023\/02\/Rec-area-750x563.jpg","mid-size-width":750,"mid-size-height":563,"team-image":"https:\/\/regionten.org\/wp-content\/uploads\/2023\/02\/Rec-area-400x400.jpg","team-image-width":400,"team-image-height":400}},{"ID":5453,"id":5453,"title":"Sensory Rm","filename":"Sensory-Rm-scaled.jpg","filesize":812767,"url":"https:\/\/regionten.org\/wp-content\/uploads\/2023\/02\/Sensory-Rm-scaled.jpg","link":"https:\/\/regionten.org\/services\/brc\/sensory-rm\/","alt":"","author":"34","description":"","caption":"","name":"sensory-rm","status":"inherit","uploaded_to":2747,"date":"2023-04-27 19:33:18","modified":"2023-04-27 19:33:18","menu_order":0,"mime_type":"image\/jpeg","type":"image","subtype":"jpeg","icon":"https:\/\/regionten.org\/wp-includes\/images\/media\/default.png","width":2560,"height":1920,"sizes":{"thumbnail":"https:\/\/regionten.org\/wp-content\/uploads\/2023\/02\/Sensory-Rm-180x180.jpg","thumbnail-width":180,"thumbnail-height":180,"medium":"https:\/\/regionten.org\/wp-content\/uploads\/2023\/02\/Sensory-Rm-scaled.jpg","medium-width":500,"medium-height":375,"medium_large":"https:\/\/regionten.org\/wp-content\/uploads\/2023\/02\/Sensory-Rm-scaled.jpg","medium_large-width":640,"medium_large-height":480,"large":"https:\/\/regionten.org\/wp-content\/uploads\/2023\/02\/Sensory-Rm-scaled.jpg","large-width":640,"large-height":480,"1536x1536":"https:\/\/regionten.org\/wp-content\/uploads\/2023\/02\/Sensory-Rm-1536x1152.jpg","1536x1536-width":1536,"1536x1536-height":1152,"2048x2048":"https:\/\/regionten.org\/wp-content\/uploads\/2023\/02\/Sensory-Rm-2048x1536.jpg","2048x2048-width":2048,"2048x2048-height":1536,"container-width":"https:\/\/regionten.org\/wp-content\/uploads\/2023\/02\/Sensory-Rm-1400x1050.jpg","container-width-width":1400,"container-width-height":1050,"mid-size":"https:\/\/regionten.org\/wp-content\/uploads\/2023\/02\/Sensory-Rm-750x563.jpg","mid-size-width":750,"mid-size-height":563,"team-image":"https:\/\/regionten.org\/wp-content\/uploads\/2023\/02\/Sensory-Rm-400x400.jpg","team-image-width":400,"team-image-height":400}}]">
---