Child and Family Outpatient Services
outpatient services for children and their families
Service Overview
Child and Family Outpatient services are offered to children, ages 3-18, and their families to address emotional and behavioral needs, including mental health and substance use disorders. These office-based services begin with a comprehensive intake assessment. Clinicians then work with individuals and their families to develop strength-based treatment goals, and may use treatment modalities such as Motivational Interviewing, Cognitive-Behavioral Therapy (CBT), Trauma-Focused CBT, art or play therapy, or Eye Movement and Desensitization and Reprocessing (EMDR). Outpatient services may include individual therapy, family therapy, parenting support, group counseling, psycho-education, and Acudetox. Our services are trauma-informed, with a goal of increasing safety and connection so that children, adolescents, and their caregivers can learn new skills to improve functioning and wellness.
Treatment goals and progress are assessed on a quarterly basis. Clinicians will provide an estimate of the timeframe recommended for treatment at the conclusion of the intake assessment. Referrals to additional services may also be offered at this time.
---
FAQs
You can find answers to our most frequently asked questions about this service here. If you've got a question we haven't covered, please don't hesitate to get in touch.
How long are C&F outpatient therapy appointments?
Intake assessment appointments typically take 1.5 to 2 hours to complete. Individual sessions are typically 50 minutes offered on a weekly basis, though the length of appointment and frequency may depend on individual and family needs.
Do you provide court-ordered substance abuse evaluations and therapy?
Yes. Individuals may be seen for Substance Abuse evaluations during our walk-in clinic hours, or call to set an appointment. Be sure to tell your clinician you are court-ordered to attend the evaluation so that you can complete the appropriate consent to release information forms.
Do you provide services to non-English speaking youth and families?
Yes. Our clinicians have access to interpretation services for non-English speaking youth and families.
Do you provide services to transgender youth?
Yes. Our diverse clinical staff use individuals' chosen pronouns and offer affirming therapy to LGBTQ youth.
Do you coordinate services with other service providers?
Yes. Our clinicians frequently coordinate services with pediatricians, psychiatrists, school staff, Social Services, courts, and other service providers. Children and families may be referred to Case Management services to support this coordination when appropriate.
Do you offer animal-assisted therapy services?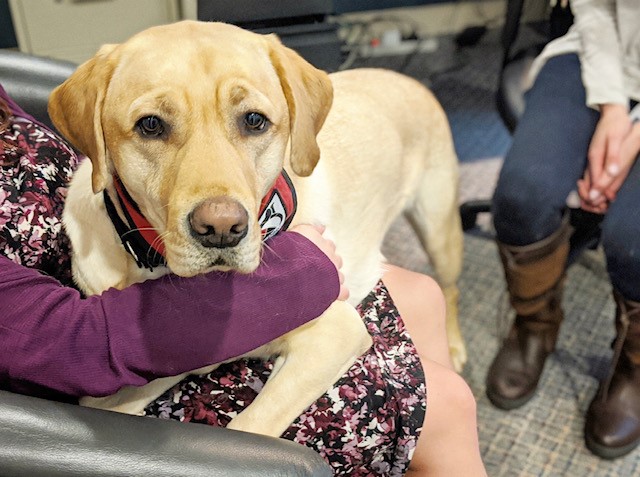 Yes. One of our clinicians is assisted by our facility and therapy dog, Conrad.