Infant and Toddler Connection of the Blue Ridge
supports and services for infants, toddlers, and their families so that families can help their children learn during everyday activities and routines
Service Overview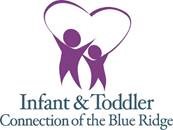 The Infant & Toddler Connection of the Blue Ridge serves the City of Charlottesville and the counties of Albemarle, Fluvanna, Louisa, Greene, and Nelson.
Although infants and toddlers learn and grow at their own pace, early childhood development often follows predictable patterns. Skills such as taking a first step, smiling for the first time, and waving "bye-bye" are developmental milestones. Children reach milestones in how they play, learn, speak, act, and move (crawling, walking, etc.).
For a number of reasons, many young children need extra support to reach certain developmental milestones. Since infants and toddlers grow and learn so quickly, it's important to get that extra help as early as possible if you or your child's doctor have any concerns about your child's development. Early identification and intervention can make a difference!
We Focus on Function
Do you need your child to stack blocks? Or do you need for your child to communicate what she or he wants? Do you need your child to stand on one foot? Or do you need your child to help pull on his shoes or button her coat?
Functional outcomes refer to skills and behaviors that are meaningful to your child and family in the context of everyday living. In other words: What matters to you?
We Focus on Child Outcomes
Early intervention supports and services are designed to help your child learn and grow in three (3) specific outcome areas. Simply stated, we want your child to:
Develop positive social-emotional skills (including social relationships). How does your child get along with other children? How does your child relate to you and to other adults? Positive social-emotional skills are important to a child's overall development and well-being.
Acquire and use knowledge and skills (including early language/ communication and early literacy). How does your child learn and think? How does he solve problems? How does she use language? The skills your infant or toddler develops and uses early in life provide the foundation for future learning and growth.
Use appropriate behaviors to meet her or his needs. How does your child participate in feeding and dressing? How does your child move from one place to another? Does your child follow directions about safety? Your child's use of appropriate behaviors is necessary for getting his or her needs met.
Your family's Individualized Family Service Plan (IFSP) will identify how your child is currently doing in each of these child outcome areas. Knowing this is key to helping the IFSP team identify goals for your child and family and the services needed to achieve those goals.
---
FAQs
You can find answers to our most frequently asked questions about this service here. If you've got a question we haven't covered, please don't hesitate to get in touch.
How do I get started with Infant and Toddler Connection?
Your family's journey within Virginia's early intervention system begins with a referral. Some families make their own referral to us. For other families, the referral is made by a physician or a hospital.
What are the services that are provided through Infant and Toddler Connection?
Every child and family is assigned a service coordinator who guides them through the early intervention system.
Typical services include occupational, physical and speech therapy as well as vision and developmental services.
Most services are provided in the child's home, in childcare or in other community settings.
How are early intervention services different from receiving therapy from a hospital or agency?
The Infant & Toddler Connection of Virginia believes that you—the parent or caregiver—are the expert when it comes to your child. You are also the best person to provide consistent learning opportunities for your son or daughter.
To support you in your role as expert, Virginia has adopted coaching as the preferred way to provide early intervention. Coaching means that the professionals who work with you and your child first demonstrate techniques and strategies for supporting your child's development and then give you opportunities to practice these same techniques and skills. By teaching parents and caregivers how to help their children, the benefits of early intervention continue long after a visit has ended.
How do I know if my child is eligible for services through Infant and Toddler Connection?
A child is eligible for early intervention if he or she is developing differently or more slowly than other children or has a health condition that will affect development. The Infant &Toddler Connection of the Blue Ridge will walk you through the eligibility process.
Is there a cost for services through the Infant and Toddler Connection?
All children birth to 36 months may receive a developmental screening and/or evaluation at no cost.
If found eligible, services are provided regardless of a family's ability to pay. Insurance and Medicaid are billed along with a generous sliding fee scale for all families.