Infant and Toddler Connection of the Blue Ridge
Supports and services for infants, toddlers, and their families so that families can help their children learn during everyday activities and routines
Service Overview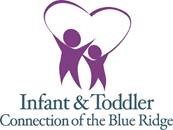 The Infant & Toddler Connection of the Blue Ridge serves the City of Charlottesville and the counties of Albemarle, Fluvanna, Louisa, Greene, and Nelson.
Although infants and toddlers learn and grow at their own pace, early childhood development often follows predictable patterns. Skills such as taking a first step, smiling for the first time, and waving "bye-bye" are developmental milestones. Children reach milestones in how they play, learn, speak, act, and move (crawling, walking, etc.).
For a number of reasons, many young children need extra support to reach certain developmental milestones. Since infants and toddlers grow and learn so quickly, it's important to get that extra help as early as possible, particularly if a parent or doctor has any concerns about a child's development. Early identification and intervention can make a difference!
Focus on Function
Do you need your child to stack blocks? Or do you need for your child to communicate what she or he wants? Do you need your child to stand on one foot? Or do you need your child to help pull on his shoes or button her coat?
Functional outcomes refer to skills and behaviors that are meaningful to your child and family in the context of everyday living. In other words: What matters to you?
Focus on Child Outcomes
Early intervention supports and services are designed to help your child learn and grow in three (3) specific outcome areas. Simply stated, we want your child to:
Develop positive social-emotional skills (including social relationships). How does your child get along with other children? How does your child relate to you and to other adults? Positive social-emotional skills are important to a child's overall development and well-being.
Acquire and use knowledge and skills (including early language/ communication and early literacy). How does your child learn and think? How does he solve problems? How does she use language? The skills your infant or toddler develops and uses early in life provide the foundation for future learning and growth.
Use appropriate behaviors to meet her or his needs. How does your child participate in feeding and dressing? How does your child move from one place to another? Does your child follow directions about safety? Your child's use of appropriate behaviors is necessary for getting his or her needs met.
A family's Individualized Family Service Plan (IFSP) will identify how a child is currently doing in each of these child outcome areas. Knowing this is key to helping the IFSP team identify goals and the services needed to achieve those goals.
:slides="false">
---